More than 730,000 Visitors
Always more brochures on the site for our pleasure and especially yours.
With more than 2 223 073 viewable brochures and more than 4300 subscribers, Estim'Vinyl,
Your favorite editor Yehl and the Trouble Baron von H. thank you for your daily presence on our site.

We will never thank you enough as it stimulates us for future brochures.
As you may have noticed, changes are made in small successive keys
To improve the headings especially as we work on several projects at once,
Modification of the site, new brochures and updating existing brochures.

The routine as dab.
In the brochures being updated and on the news to come,
We will limit the number of ads (Chic, tu travail en moins),
But on the other hand banners at head of heading
(Flûteklick, from the job in addition).

New rates
Brochures including rates, formats, railways
In PDF format are present today on our site "Customer space".
Do not hesitate to use our available spaces.
Gate 43
No. 43 is the number of the new brochure
forthcoming in the next few days (scheduled for 26/08/2012).

This mythical band of the 70's sold over 100 million albums worldwide,
composed of Jim Morrison: vocals, tambourine and maracas - Ray Manzarek: electric organ and piano bass -
Robbie Krieger: guitar and John Densmore: drums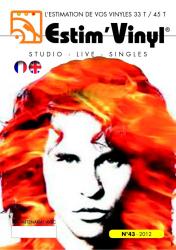 estimvinyl (link) On 2013-03-29
Bonjour Poupette,
Pour connaitre la valeur des vinyles de Johnny, il suffit d'aller dans les brochures qui sont sur le site à l'artiste voulu, tous ou presque tous les albums de Johnny y sont présent avec la valeur de l'album à coté suivant l'état; Les albums sont classés par dates de sortie -
Bonne recherche
Yehl